A Selection Of Books To Help You Prepare
For Pregnancy and Birth
This is one of my all-time favorite books to study when I am preparing for a birth. I get asked a lot what book I would recommend if I could only buy one book. Well, this is it! A complete guide, written by a midwife for midwives. An excellent resource for couples who want to take on more responsibility for their birth. Sections deal with: prenatal care; problems in pregnancy; labor and birth; complications in labor; postpartum care, among others. An indispensable book for couples planning to birth unassisted.
This book answers all the questions about nutritional and herbal medicine for optimum health during pregnancy. Beginning with God's design for health and nutrition, the following is covered in detail: how to eat for a healthy baby, which herbs are safe and which are dangerous during pregnancy, and the best ways to minimize those times of nausea and discomfort. Shonda Parker provides information to guide the pregnant mom and her baby to good health with a balanced approach to herbal and traditional medicine.
You conceived your child through of love. Why not birth your child the same way? This book is about giving birth privately. It is about changing the way we think about birth. It combines research, theory and personal experience. There are several unassisted birth stories after 1990, including: babies born at 36 and 43 weeks gestation, water birth, Rh- mother, breech twins, unassisted birth after cesarean (U-BAC), first baby a "Do-it-Yourself" birth, fourth generation baby born in the same house. The stories include situations with baby born in amniotic sac, with meconium, and with the cord wrapped tightly around baby's neck. Babies were born to parents ranging from ages 21 to 44.
Collection of fifty stories about unassisted home birth (birth without a doctor or midwife). Couples explain why they chose to birth this way, how they prepared for birth, and shared their joyous birth experiences. Stories include previous C-sections, including one woman who had a C-section in 1946 and had subsequent do-it-yourself births. Parents describe the liberating feelings during labor and birth: no hospital staff telling them what position to give birth in or what to eat or drink. Families share their previous birth failures, frustrations and fears.
"This book is an exciting introduction to an area of health care that has wrongfully fallen into disrepute and neglect. It shows how with proper training, common sense, and adequate cooperation from mothers, much suffering commonly associated with childbirth may be alleviated and joy brought into the lives of those who follow Polly's counsel. I see an increasing need for such counsel, particularly if current trends persist. I eagerly await the sequel to this volume, Polly's 'How to' book." - Jack Gambee M.D. This title is out-of-print. Published in 1979.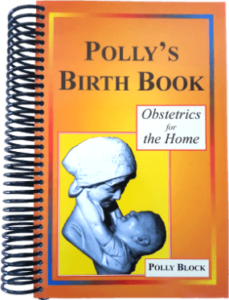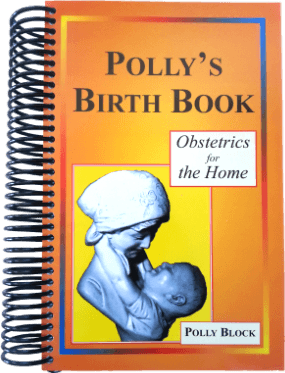 Since 1984, Polly's Birth Book: Obstetrics For The Home is being used by doctors over the world who are looking to provide natural childbirth to the ever increasing demands of some patients. It is used as the primary training manual in midwifery schools, as a reference book in Childbirth Centers and classes by Certified Nurse Midwives, EMTs and other paramedics. Thousands of parents and Lay Midwives use this volume as a valuable resource for family planning, pregnancy and childbirth, and postpartum care. Polly's Birth Book: Obstetrics For The Home reflects the twenty-plus years experience of the author as a midwife. You also find there a healthy respect for life and the role of parents as they seek to multiply and replenish. The author was guest speaker at University seminars on childbirth, taught six-day training classes in midwifery in many of the states. She participated in the Carol Sakala research, reported in Content of Care by Independent Midwives, published in the Social Science & Medicine Journal, printed in Great Britain in 1988. It is a well known fact that in disaster situations, Triage rules the day! This means that women will be told to stay home or go elsewhere to deliver their babies because childbirth is not a life threatening emergency! Rightly, the Sheriffs Office wanted to help the layman to become prepared to assist a mother in childbirth. While Pollys Birth Book alone lacks the element of hand-on experience for the reader, it is by far the most sought after childbirth how-to book on the market world over.  Polly's Birth Book is 563 pp, and has 71 illustrations by the author.
Pleasurable Husband/Wife Childbirth: The Real Consummation of Married Love describes how birth is a sexual event and how it can be pleasurable when husband and wife birth alone rather than under medical circumstances. Moran cites plenty of examples of truth/facts that are not revealed to patients who submit to the medical childbirth system. She presents research that reveals that couples who give birth intimately return to a satisfying sex life sooner and with more frequency. They often experience less fatigue and a lower incidence of postpartum depression.On the wedding day, a couple promises to turn to each other exclusively for sexual relations which includes birth in Moran's opinion, since birth is a sexual expression. Conception and birth are not mere technical feats, but holy acts and birth is presented as simple, safer and superior to hospital birth. Obstetricians and midwives detract from the marital union that can be solidified during birth. This book shows why "surrogates" should not be attending normal birth. (No longer in print.)
This illustrated guide to the powerful Fertility Awareness Method--the exciting natural alternative to present methods of birth control--teaches women to take greater control of their own menstrual and sexual health care and, in the process, reap benefits well beyond their fertility. Illustrations. 8-page color insert
Another excellent book! The complete guide to informed birth. Practical guide for couples who want greater responsibility for the birth of their baby at home or in a birth-center. Sections on hospital options, cesarean prevention, and emotional aspects of birth. Special sections deal with normal labor and birth, and the most common complications and emergencies, including information on ways to deal with them.
This book is out-of-print now, but when it was written in the early 80's and then updated in the late 90's, it contained the most comprehensive review of the scientific literature on the safety of home birth and midwifery ever compiled up to that time. It contains the most thoroughly documented set of maternity standards ever published. The author and his wife chose to birth all of their children at home, unassisted.
Exposes the lack of scientific justification for many maternity practices in American hospitals and offers viable alternatives - including safe births outside of the hospital. This well-documented book is valuable for parents and professionals alike. The authors birthed all of their children at home, unassisted. (4th edition, 1992).
A positive report on children's presence at birth, with over 125 photographs. This is an important book to read if you are preparing a child to be at the birth of a sibling. There's information about why and when and how to prepare. And there's also important information about choices in childbirth, including many of the controversies, things to avoid, and things your doctor might not tell you. It's very straightforward and factual. If you are planning on having your other children at your birth, it's essential. It gives very clear guidelines and suggestions on how to handle the whole situation. The birth stories at the end are great because you get to hear what kids actually thought about attending the births of their siblings.
Human reproduction, from conception to birth, with outstanding color photographs. Contains many photographs of life before birth including the explosion of the ripened egg, the "winning sperm," and the first brain cells. Beautiful book.
Ina May's Guide to Childbirth takes the fear out of childbirth by restoring women's faith in their own natural power to give birth with more ease, less pain, and less medical intervention. Great book, very informative. A classic, even better than her first book!
A must-have for every home birth couple, whether you plan to birth unassisted or have a midwife present. You never know if you will be one to labor so fast the midwife doesn't make it, so its good to be ready with a handy how-to guide. It addresses the most common complications and how to handle them. Written by a doctor for police officers/first responders to keep in their vehicles for those rare occasions they are called upon to help a birthing woman.
Anyone working to improve the childbearing experience and help women avoid unnecessary intervention has encountered numerous "obstetric myths" or "old doctors' tales." And while the evidence in the medical literature may be solidly, often unequivocably, against whatever "the doctor said," without access to that evidence, the pregnant woman is quite reasonably going to follow her doctor. This book is an attempt to make the medical literature on a variety of key obstetric issues accessible to people who lack the time, expertise, access, or proximity to a medical library to research concerns on their own. This compact, accurate, yet understandable reference is designed for people without medical training and organized for easy access.
A guide to movement in pregnancy, birth, and the postnatal period helps women develop all their bodily resources for labor and birth. Covers pregnancy, childbirth, and the postnatal period: stretching exercises; breathing and massage; descriptions of each stage of labor and delivery; and an up-to-date resource section. Has a chapter dealing with yoga-based exercises.
Answers many of the commonly asked questions about water birth. Provides the details of parental and midwife preparation; labor and birth; and danger signals that must be heeded. Includes a wealth of information, personal testimony and instructions for those who choose waterbirth.
An irreverent critique of established medical practice by medical doctor; how to guard against the harmful impact of doctors, drugs, and hospital. Covers issues from unnecessary surgeries and prescribed drugs to preventive medicine and home births. A classic.
Dr. Robert Mendelsohn, renowned pediatrician and author advises parents on home treatment and diagnosis of colds and flus, childhood illnesses, vision and hearing problems, allergies, and more. PLUS, a complete section on picking the right doctor for your child, step-by-step instructions for knowing when to call a doctor, and much more. My childcare BIBLE! Excellent medical information for the natural-minded parent.
General birth-preparation reading

Pregnancy, Childbirth, and the Newborn: The Complete Guide (medically updated) Simkin, Whalley, and Keppler - Information for parents to develop their own way of giving birth. Reflects the latest changes in obstetric technology, offers new coping strategies, covers pregnancy, childbirth, and newborn care; fetal and maternal development; nutrition, health and exercise during pregnancy; relaxation and comfort during labor and birth; and postpartum care. BIRTHING FROM WITHIN - Pam England and Rob Horowitz - I have not read this book, but it comes highly recommended by Kathleen, who writes: "It is so good! I knew I would like it when she started the book by saying she does not have couples bring pillows to her classes because she does not want to advance the myth that labor is something to be done lying down. She doesn't teach breathing patterns or raise false hopes about how great it will all be if you just 'relax enough.' She acknowledges that birth experiences can cover a wide range and still be normal. I found her to be very realisic and down to earth about birth. She encourages journaling and art to work through any mindsets which need to be changed about birth. She also has some very unique exercises to help deal with pain, different from any other book I have read. She is pro-home birth, pro-natural birth, pro-water birth." BIRTH WITHOUT VIOLENCE - Fredrick Leboyer - Poetic and powerful plea to make birth more peaceful for the vulnerable, sensitive newborn. Examines the birth process through the eyes of the newborn. Spiritual Midwifery - Ina May Gaskin - The 4th edition of the classic book on home birth that introduced a whole generation of women to the concept of natural childbirth. Back again are even more amazing birthing tales, including those from women who were babies in earlier editions and stories about Old Order Amish women attended by the Farm midwives. Also new is information about the safety of techniques routinely used in hospitals during and after birth, information on postpartum depression and maternal death, and recent statistics on births managed by The Farm Midwives. From the amazing birthing tales to care of the newborn, Spiritual Midwifery is still one of the best books an expectant mother could own. Includes resources for doulas, childbirth educators, birth centers, and other organizations and alliances dedicated to improving maternity care at home and in hospitals. OPEN SEASON - Nancy Wainer Cohen - A survival guide for natural childbirth and VBAC in the 90's. An informative, irreverent, readable book written to lower our culture's reliance on cesarean section and to return the responsibility for childbirth to women. SILENT KNIFE - Cohen and Estner - Powerful, impassioned critique of the growing reliance on cesarean, and strategies to prevent needless cesareans. Comprehensive and timely, written with humor and some indignation. BIRTH AS AN AMERICAN RITE OF PASSAGE - Robbie Davis-Floyd - In-depth analysis of the technocratic model of birth, its cultural variations and alternatives. LYING IN - Richard and Dorothy Wertz - Effects of the medical way of childbirth from  Colonial times to the present. Documents the takeover of birth by the obstetrical system, and the effects of the hospital way of childbirth.

IMMACULATE DECEPTION II : BIRTH & BEYOND

- Suzanne Arms - A complete rewrite and update of Arm's classic critique of how childbirth is managed in the U.S. and ways to change them. The Joy of Natural Childbirth (1984)

Infant Massage: The Power o  Touch (video)

Vaccination information

Immunizations : The Terrible Risks Your Children Face That Your Doctor Won't Reveal

Immunization Theory Vs. Reality: Expose on Vaccinations

A Shot in the Dark : Why the P in the Dpt Vaccination May Be Hazardous to Your Child's Health

Natural Home Health Care

Natural Medicine for Children : Drug-Free Health Care for Children from Birth to Age Twelve : A Practical, Comprehensive Guide to Herbs, Homeopathy

Homeopathic Medicine for Children and Infants

Homeopathic Medicine at Home: Natural Remedies for Everyday Ailments and Minor Injuries

Beyond Antibiotics : Boost Your Immunity and Avoid Antibiotics

Healing Childhood Ear Infections : Prevention, Home Care, and Alternative Treatment

Smart Medicine for a Healthier Child : A Practical A-To-Z Reference to Natural and Conventional Treatments for Infants and Children

The Doctors Book of Home Remedies for Children

The Doctors Book of Home Remedies for Women

The Complete Book of Natural & Medicinal Cures : How to Choose the Most Potent Healing Agents for over 300 Conditions and Diseases

Prescription for Nutritional Healing: A Practical A-Z Reference to Drug-Free Remedies Using Vitamins, Minerals, Herbs & Food Supplements

Encyclopedia of Natural Medicine, Revised 2nd Edition

The Natural Pharmacy : From the Top Experts in the Field, Your Essential Guide to Vitamins, Herbs, Minerals and Homeopathic Remedies

The Healing Power of Herbs : The Enlightened Person's Guide to the Wonders of Medicinal Plants

Natural Alternatives to Over-The-Counter and Prescription Drugs

The Holistic Pediatrician : A Parent's Comprehensive Guide to Safe and Effective Therapies for the 25 Most Common Childhood Ailments